A circular walk, 6.5 miles.
A short moorland walk that takes in one of the finest view points in the Yorkshire Dales national park.
It has become a tradition over the last couple of years to do a hike on New Year's Day. I would be joined for this one by Will who would also be driving us to the location.
We had wanted to do Great Whernside from Kettlewell, however on the B6160 just before reaching Kilnsey the road was heavily flooded. So disappointed we turned around, stopped, had a glance at the map and set our sights on doing near by Simon's Seat instead. I have climbed this particular Yorkshire Dales highpoint before, however this would be a first time visit for Will.
We had decided to start this walk from Appletreewick, a pretty little traditional Dales village (with some good looking pubs too) which had some free parking spaces left. I did notice to my surprise it is possible to get a bus to the village, which is seemingly en-route to Buckden from Ilkley - a journey I now want to do!
Here walking the road through Appletreewick, with our destination - craggy Simon's Seat ahead...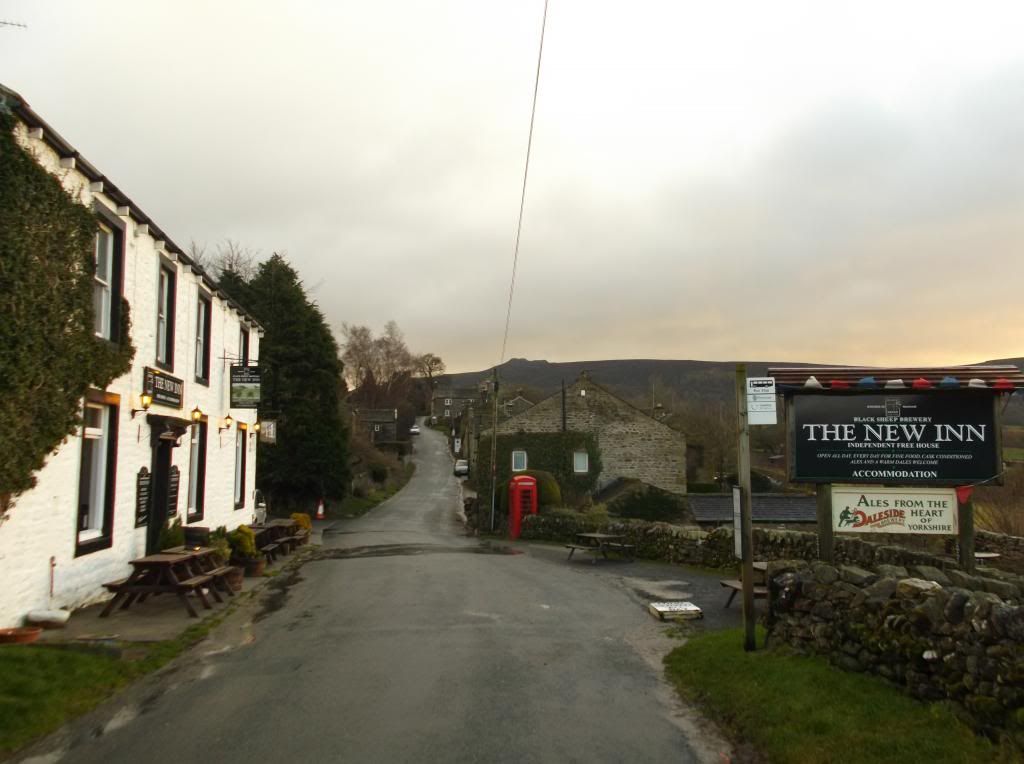 Simon's Seat on the left and Carncliff Top on the right...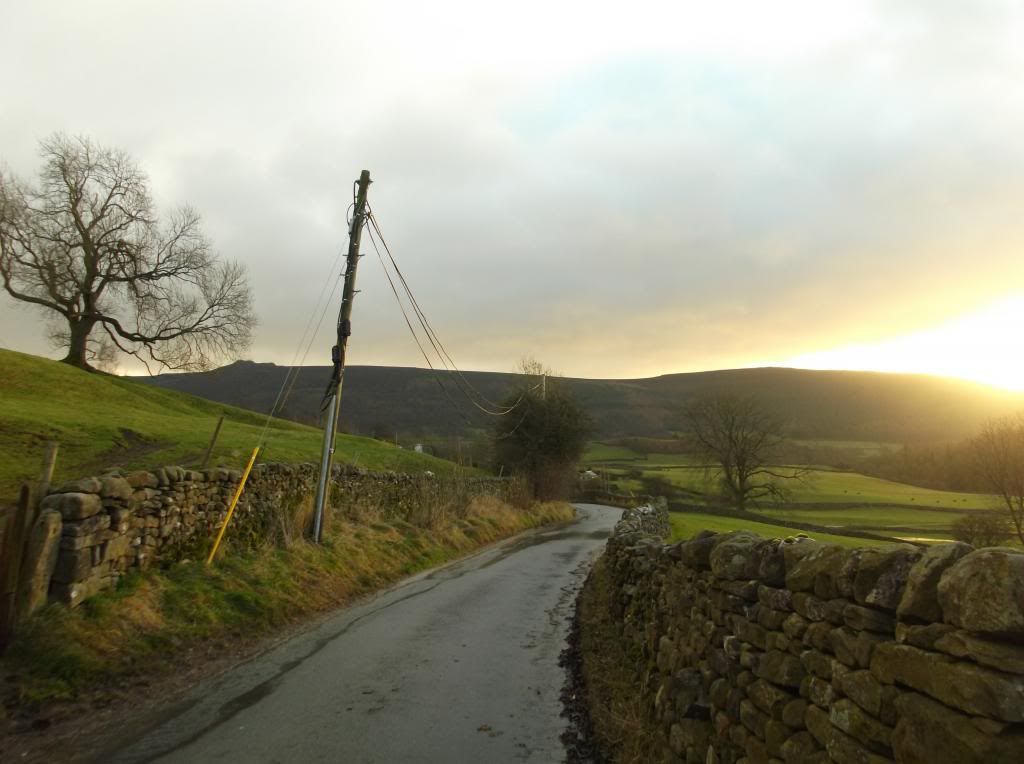 After wandering through the even smaller village of Howgill, we eventually made it to the edge of the hillside...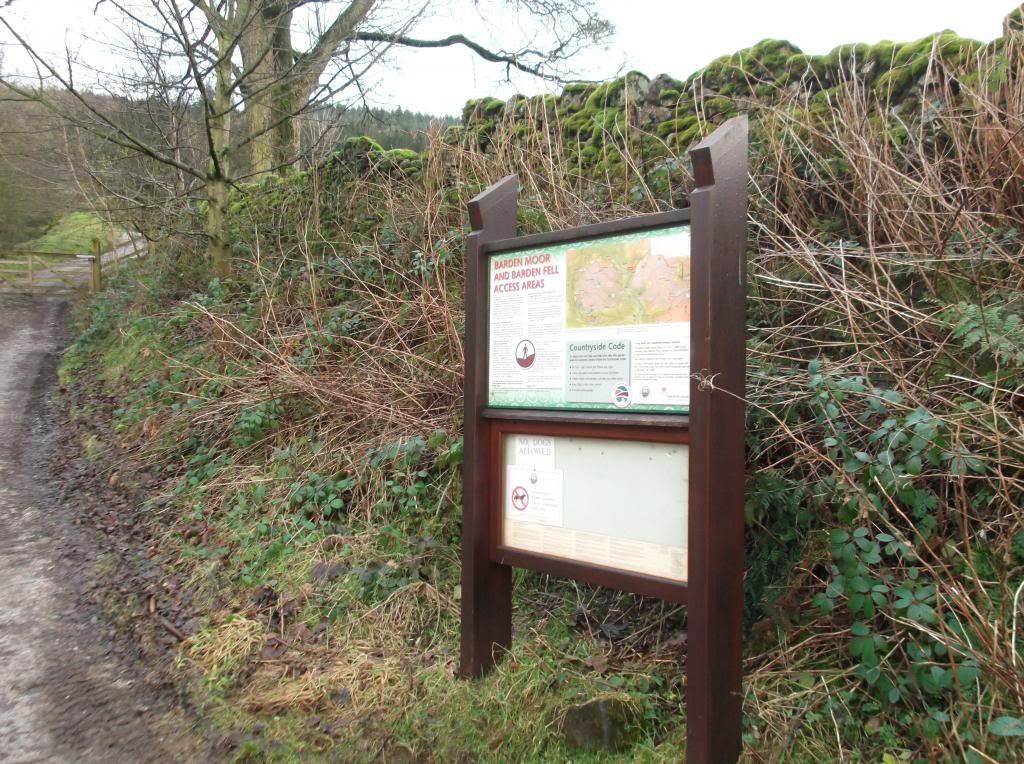 This track is actually quite well maintained due to it being used by the Forestry Commission, so made for an easy ascent towards the moor side...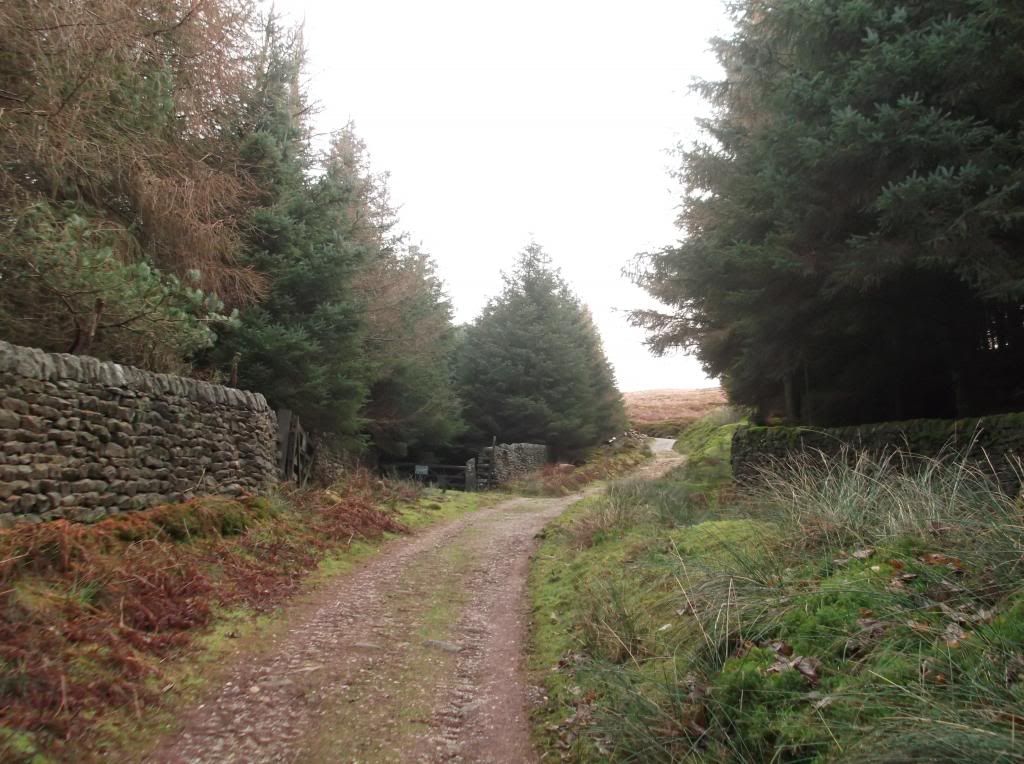 Out onto the open moors now...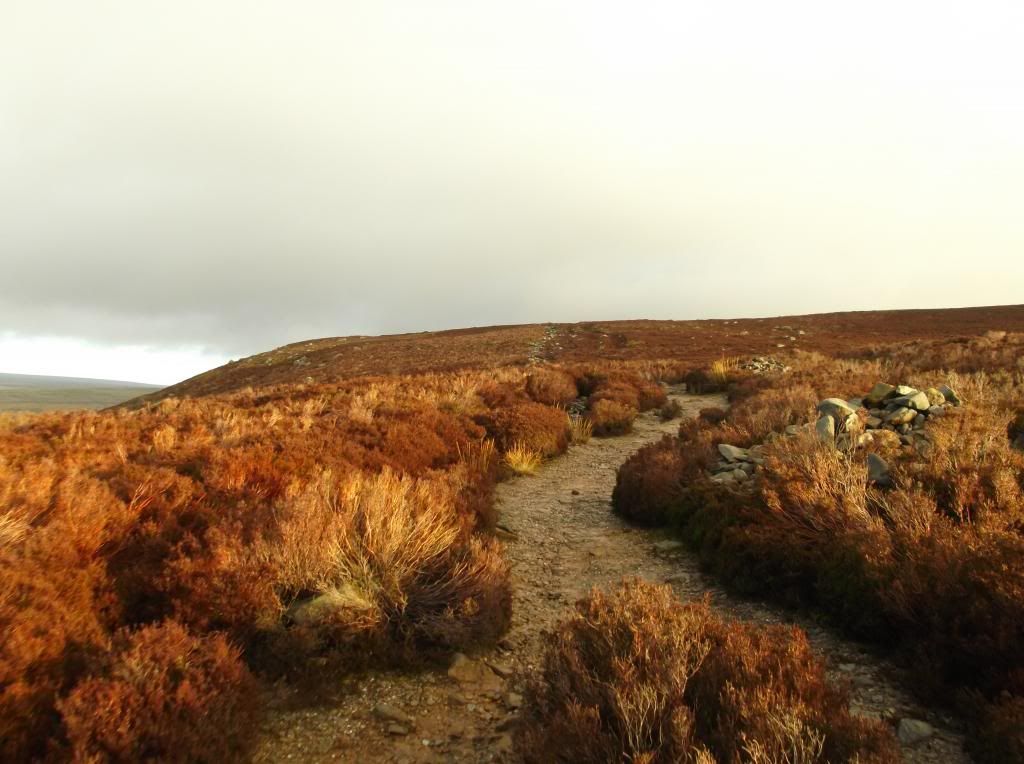 There has been a lot of work put into this pathway. Simon's Seat is a popular route and the pathway has seen major erosion on much of it, however much of the damage has been repaired - even a very nice set of flag stones have been put in place here to get you across the peat bogs...
The summit outcrop of boulders comes into view here. At this point you also pass a large cairn known as The Devil's Apronful...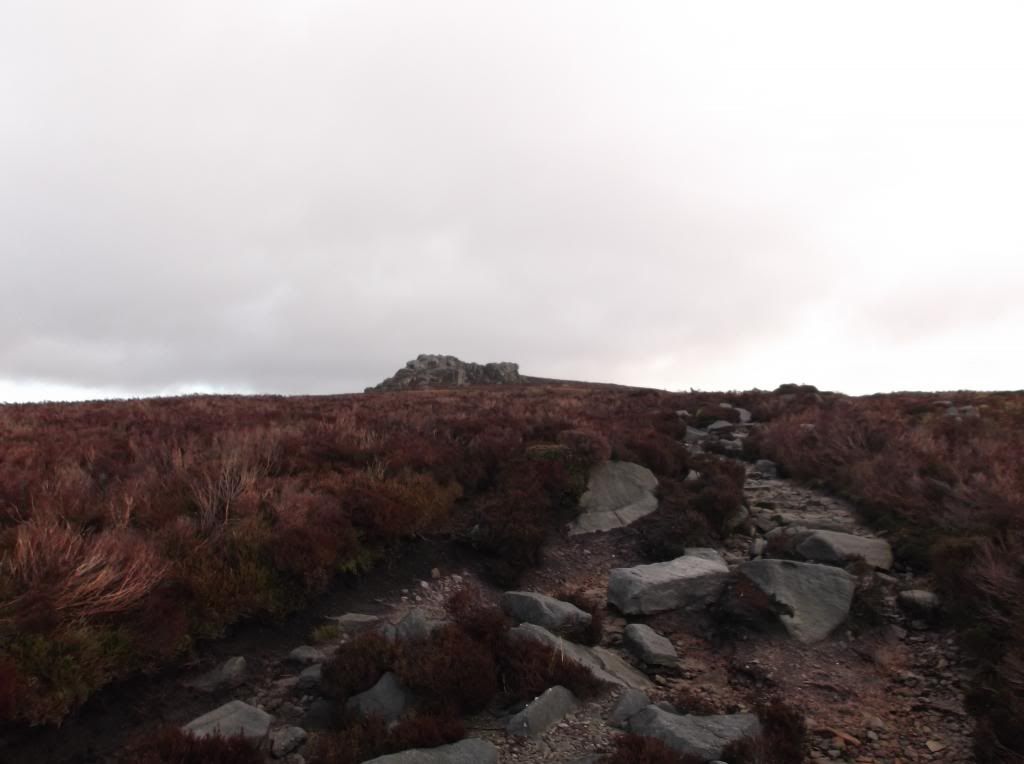 The summit Trig Point is perched right on top of the outcrop (not dissimilar to the Trig on the summit of The Stiperstones in Shropshire) so a tiny bit of scrambling is required to get up to it...
Simon's Seat summit Trig Point at 485 metres...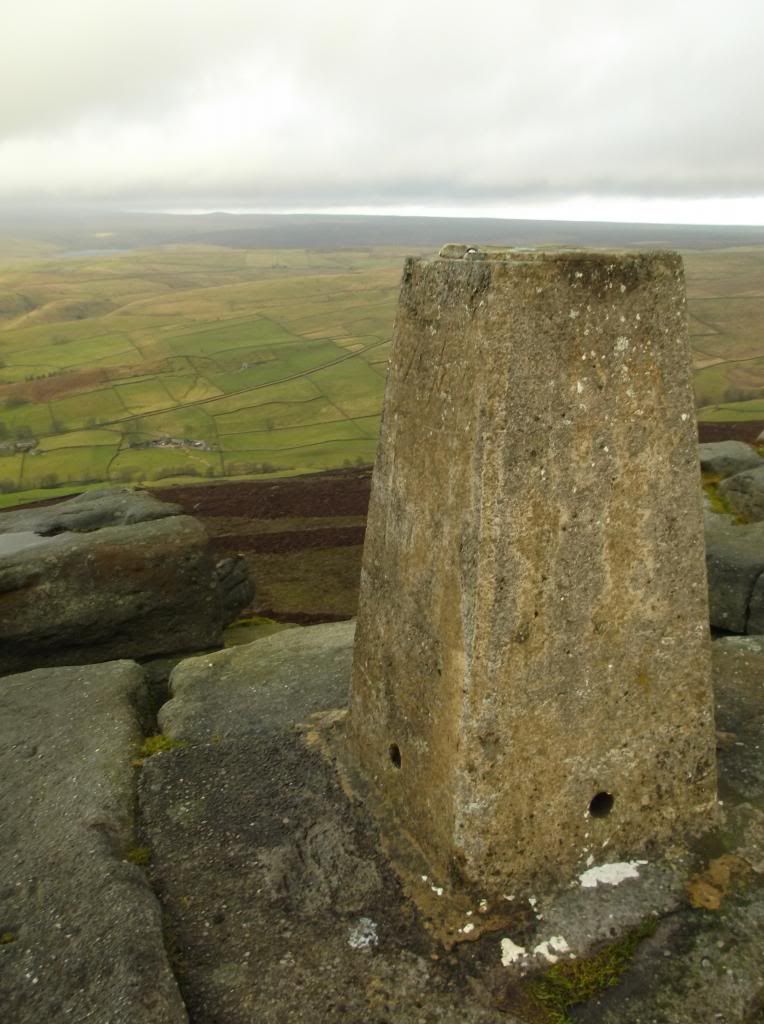 The wind was very strong on the outcrop and very cold. Although my eyes were watering from the cold wind it was nice to scan the surrounding landscape. The summit gives some excellent views north west towards Upper Wharfedale, Meugher, Grimwith Reservoir and our previous goal - Great Whernside. It is also possible to see the large early warning station at Menwith Hill to the south east and a distant Ilkley Moor.
Bono once said "All is quiet on New Year's Day" and that certainly was true on this one. This was remarkably quiet for Simon's Seat, just us today seemingly - the first people to ascend the hill in 2013 possibly?! Here Will taking in the views to the south...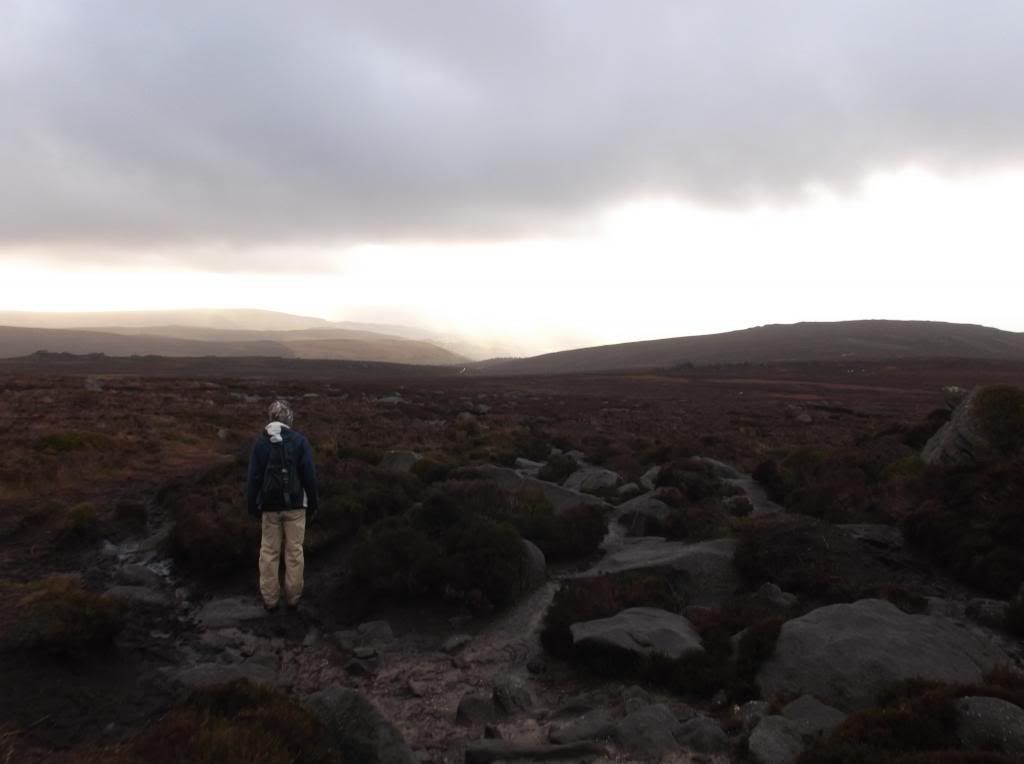 The track from here heads more or less straight down the hillside from the summit outcrop back towards Howgill, it's a steep descent over broken ground too. We then followed the same roads back into Appletreewick to get back to the car.
Here a distant Great Whernside above Grimwith Reservoir taking a battering from the elements...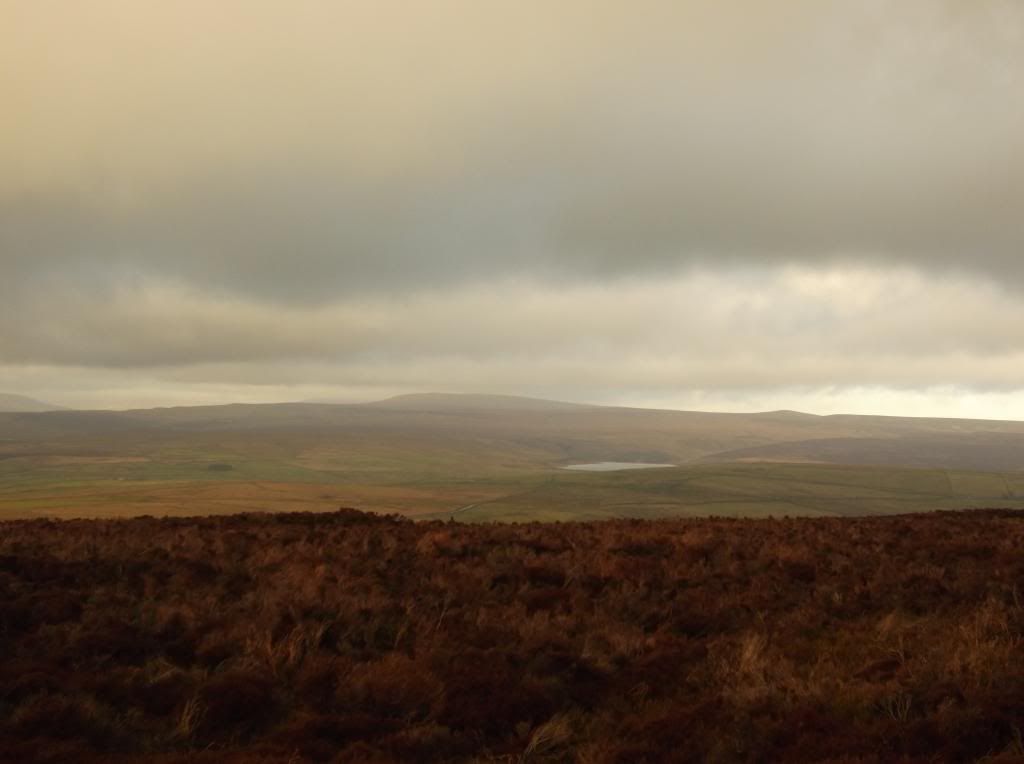 I suppose this is a relatively short circular walk for me, but for New Year's Day was perfect. It was a shame we didn't get to do Great Whernside, that will have to be done soon when the water eventually recedes from the roads!
Simon's Seat is a good introduction to walking in the Yorkshire Dales allowing you to see other notable fells and points of interest locally without strolling too far from civilisation. Thanks for reading.